In the fantasy genre, writing about new worlds comes with the territory, but sometimes words aren't enough. Maps of your world's terrain, provide a visual guide that readers can reference as they walk alongside your characters. They also activate another sense—sight—which can elevate engagement and draw readers deeper into your story.
If world-building is your thing, and you'd prefer not to spend an eternity drawing a map by hand, then a fantasy map generator might be the perfect tool for you.

Let's take a closer look at how a map generator can help you bring your fantasy book to life.
Here's what you need to know about the best fantasy map generator tools out there:
What are fantasy map generators?
As the name indicates, fantasy map generators are software tools that allow users to create maps based on specific input.
Why do you need a fantasy map generator?
You don't necessarily need a map generator. You can forgo a map and hope that your story is descriptive enough for the reader without the visual, or you can hire a cartographer (someone who designs maps) to create a map for you. Or, if you're feeling daring and have the skills, you can draw it yourself.
Similar to writing tools like Grammarly or Prowriting Aid make writing easier by providing writing support, fantasy map generators help you to create maps faster because the process is automated. This gives you the flexibility to try different things and even start over without worrying about losing too much time in the process. Without the time constraints of hand drawing, you can play around more freely with the different options.
Which fantasy map generator should you use for your next project?
Below we'll look at 15 of the most popular fantasy map generators (in alphabetical order), their prices, and benefits. Many of the tools below come with additional features, but in this post, we'll focus on fantasy world-building.
Description: If you've searched for fantasy map generators online, chances are the Azgaar Map Generator popped up in many of the search results. It is the brainchild of an amateur javascript developer (not so amateur now), who started exploring map generation in 2017 as a programming novice. At the writing of this post, Azgaar has more than 35 contributors and a loyal following.

Benefits: You can use the tool within your browser or download it and work offline with limited capabilities. All maps are free to use and publish. The program is highly responsive and interactive. Parts of the map can be auto-generated or you can use the paint tools provided to create your own.

Support: Active Discord and Reddit communities and Trello for updates

More information: Github page

Price: Free
(Donjon generated map: source)

Description: The Donjon fantasy map generator is another popular option for generating flat land maps. It's filled with options that you can use to customize your map or have it generate one randomly.

Benefits: The map generator is browser-based and can be used to create basic maps quickly. It's recommended for those who are new to map making and want something easy to use to get started. With minimal input, you can adjust the amount of land, water, ice, font, labels, and more.

Support: Patreon community

Price: Free

(Source)

Description: The exquisite-looking maps generated by Inkarnate fantasy map generator are a favorite of fiction writers and world-building fans. The online tool allows you to create a variety of maps including world, city, battle, and scene maps.

Benefits: The browser-based tool allows you to access your maps at any time, and with a Pro plan, the maps can be used commercially.

Support: Reddit, Discord, and website support

More information: Github page

Price: Free – $25/yr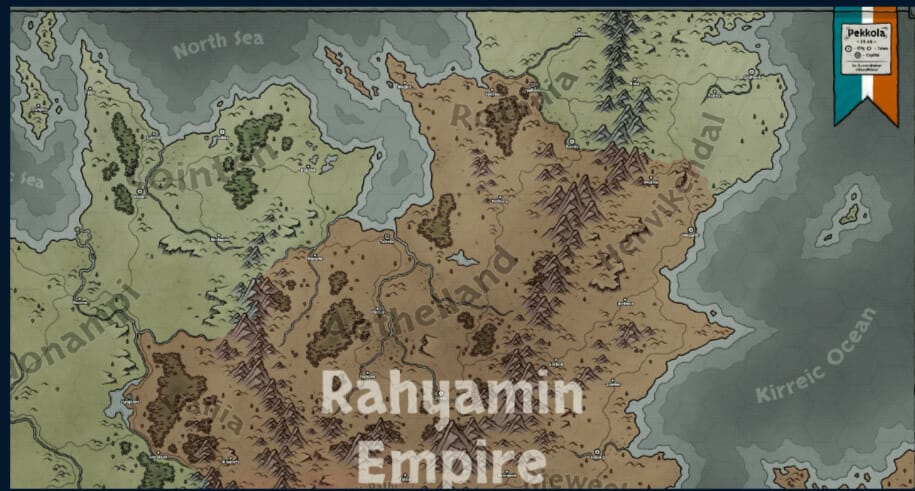 (Source)

Website Description: World Anvil is a set of worldbuilding tools that helps you create, organize and store your world setting. With wiki-like articles, interactive maps, historical timelines, an RPG Campaign Manager and full novel-writing software, we have all the tools you'll need to run your RPG Campaign or write your novel!

Benefits: Interactive landscapes, charting, map linking, custom markers,

Support: World Anvil Community

More information: Community page

Price: Free (upgrades available)
Website Description: WONDERDRAFT is an intuitive yet powerful fantasy map creation tool for 64-bit Windows 10, Linux, and MacOSX.

Benefits: Easily create realistic landmasses, coastlines, rivers, roads, and terrain symbols. DRM-free software and royalty-free user-made content. Digital pen support.

Support: Discord, Reddit, Youtube, Twitter

More information: FAQ page (scroll to the bottom)

Price: $29.99
(Source)
Website Description: In minutes you can learn all you need to rapidly create beautiful maps for campaigns, games and real-world applications, for private and commercial use.

Benefits: Supports high-quality artwork in .png format, fix-scaled characters, and special effects

Support: Forum

Price: Starts at $44.95
(Source)
Website Description: Watabou's Procgen Arcana is a collection of free map generators for tabletop role-playing games and worldbuilding. Currently, it consists of six generators, all of them are in active development.

Benefits: Settlements, dungeons, woods, mountain ranges. Export files in .png or .svg. Tag-friendly.

Support: Twitter and Reddit

More information: Github

Price: Free

Website Description: Learn how to improve your own maps with our collection of Drawing Tutorials and Map Tips to equip you on your cartography journey!

Benefits: Hand-illustrated brushes, stamps for various terrain and vegetation, culture stamps, aged paper textures, fantasy border templates, and extra fonts.

Support: Email to Map Effects creator Josh Stolarz

Price: $34
Website Description: In FlowScape you can create your own tiny nature scene simply by painting. Choose from 20 landscapes and more than 300 models to create your own private paradise by changing the sky, rotating the sun, adding sound effects and adjust your camera settings for that perfect photo.

Benefits: Beginner-friendly. High-resolution animal and plant life. Unique landscapes. Reference for artists to visualize worlds and construct environments,

Support: Community

Price: $10

(Source)

Website Description: This map creator tool will allow you to create a whole world of your own design using well over 1400 different images.

Benefits: Planning tool, local saving, generate maps or build from scratch, beginner-friendly

Support: Creator contact page

Price: Free


(Image: Map of Fantasy Land)

Website Description: Design stunning custom maps with ease. No art background or design software necessary. Use Canva's free online map maker and create your maps you can add to infographics, documents, presentations, and even websites.

Benefits: Easy to use, a variety of templates, elements and filters to choose from

Support: Website contact page

Price: Free (upgrades available)

(Source)

Website Description: Nortantis is a fantasy map generator originally created as an academic project. It uses a simple tectonic plate simulation to create islands and continents with trees, rivers, and mountains. Using image convolution and micro-texture generation, it creates random paper textures on which it draws maps using randomly generated color schemes, and it uses words extracted from books to randomly create region, river, mountain, and city names.

Benefits: Tectonic plate simulation, name and color generator, easy-to-use editor

Support: Github or email

Price: Free


Website Description: When you need a map for your D&D encounter and you have 60 seconds to create it, Dungeon Scrawl is where you go. It's a battlemap tool that gets out of your way as you draw your dungeon, decorate it with objects and text, and export it.

Benefits: Square and hex grids, import images, full style control, isometric maps, add text, unlimited map creation

Support: Contact form, Reddit, and Discord

More information: Quick Start Guide

Price: Free (upgrade available)

(Source: User Generated Submission/ Joel Mongeau)

Website Description: Unleash your data and imagination with Scribble Maps
Build custom maps and identify insights across real estate, engineering, research, business, exploration, construction, manufacturing – and so much more.
Note: Although the website focuses on business uses, Scribble Maps offers a Fantasy Maps generator.

Benefits: Easy to use, map collaboration, base templates (tropical, lava, snow), multiple layers

Support: Community and Priority Support

More information: Quick Start Guide

Price: Free (upgrade available)
Wiki Website Description: a collaborative platform for creating fictional maps. OpenGeofiction's dynamic community of hobbyists comes from a wide range of backgrounds, cultures, occupations, and ages. We are a community of mappers that uses our knowledge, experience, and imagination to craft a fictional world, set in modern times and with an emphasis on realism.

Benefits: A focus on modern world building and realism, collaborative platform, multiple editor use, interactive, territory ownership, mapping skill practice area

Support: Help Portal, forum

Price: Free
Final Thoughts
With so many fantasy map generators to choose from, if you want to include a map of your unique world in your book, you can generate a map easily. Any one of the tools listed above can be the extra oomph you need to make your world jump off the page and into the minds of your readers. Many of the tools are free so if you're new to cartography (map creation) you can play around with the tools until you find one that works.