By Corina Koch MacLeod and <a href="https://www.google.com/+CarlaDouglas82/?rel="author" noopener noreferrer" target="_blank">Carla Douglas
As a self-publishing author, it's next to impossible to manage all aspects of publishing a book by yourself. Inevitably, you'll need to seek help with at least some stages of the process. And there's a bevy of providers out there, eager to offer their assistance.
Porter Anderson observed last month on the FutureBook blog that "the complexity exploding around decisions facing authors today … is boggling." And in a recent podcast, Joanna Penn again warns authors to "do their due diligence" when seeking help with self-publishing. These comments are as true for editing as for any other author service.
How can authors know what they're getting? Bottom line: if you're paying someone to help you, that transaction must be transparent. You need to know exactly what the editor will do and what it will cost. In short, all the terms must be spelled out plainly.
Lately, most authors who contact us are requesting a quote for proofreading. And we could simply provide a quote for proofreading, but that wouldn't be transparent. Why? Because when we look at the manuscript they've sent, it's clear that the manuscript doesn't need proofreading—it needs copyediting.
Copyediting or Proofreading? What's the Difference?
The easiest way to remember the difference between copyediting and proofreading is to consider when they occur in the editing process. Proofreading is the final stage of editing. It occurs after your book has been formatted for print or digital distribution—after you get it back from your formatter or book designer. Proofreading occurs when your book is in its final form—in the environment in which your reader will read it.
For print books, proofreading will occur on a PDF. For an ebook, the proofreader will view your book as an epub or mobi file—on a Kindle, perhaps—and keep a list of any changes that need to be made in the master file. Any corrections that the proofreader suggests will need to be addressed by your formatter or designer. If you're the formatter or designer, you'll be the one making the corrections.
The proofreader will also look for errors that have been introduced during the formatting and design process. That's right! Every time someone touches your book manuscript for any reason, the possibility of introducing errors exists. So the fewer changes you have to make at the proofreading stage, the better.
You also need to consider the kinds of changes that make sense at the proofreading stage. Because formatting or designing a book involves placing and finessing text so that things look and operate correctly, you don't want to be rewriting or shuffling sentences at the proofreading stage. In the case of print, even inserting a word could cause the words in a sentence to bunch up or spill over to the next line and affect the spacing of a sentence or paragraph. This can upset a carefully planned print layout. Instead, you'll only want to make the tiniest of changes, so that you don't disturb the layout of your book.
Your proofreader will be looking for language errors and formatting errors —missing words, typos, punctuation errors, spelling and formatting inconsistencies—the smaller things that have slipped through previous stages of editing.
The diagram below compares the kinds of things you'd ideally address at the copyediting and proofreading stages. Some of the tasks are addressed at both stages, but it's less costly to address the overlapping tasks at the copyediting stage.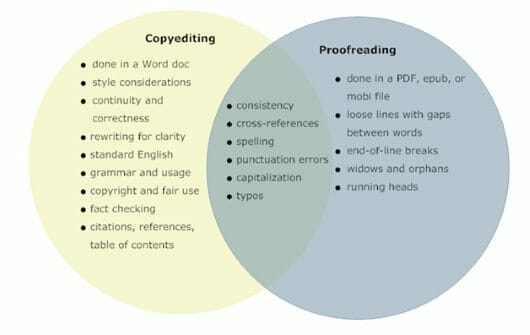 The Problem With "Proofreading"
When an author submits a manuscript to us for "proofreading," this is the first question we ask: "Has your book been copyedited?" If it hasn't, the process can become costly for the author.
Here's why: editors generally copyedit a manuscript using a variety of automated copyediting tools. These tools not only help editors to be more accurate in hunting down errors, they also help them to be more efficient during the copyediting process. If an editor charges by the hour, you will want her to use the tools that will make the process more efficient, as this will be less of a drain on your book budget.
Most automated tools only work with Microsoft Word—the editor's tool of choice. It follows, then, that the bulk of corrections should occur when your book manuscript has not yet been formatted as a PDF, epub, or mobi.
Further, copyediting can involve recasting and reordering sentences for clarity, a task you most definitely want to avoid when your book has been formatted or laid out. For more information on what copyediting looks like, see What Does Editing Look Like? Behind the (Crime) Scene at the Editor's Screen.
Of course, if what your book needs is a copyedit, but what you have is a PDF that a designer has already laid out, your editor will do the best she can. Just be prepared to pay more for the job, because your editor may not be able to access the tools that will make the job more affordable. And if she does find a workaround, it may require your designer to make adjustments that will cost you extra.
Don't Put the Cart Before the Horse
Ideally, a manuscript should go through both the copyediting and proofreading stages. If your book has been copyedited, then of course proofreading will be next. Many self-publishing authors, though, are foregoing copyediting, assuming that the finer details of style and consistency have been seen to by their beta readers. Hence the request for proofreading.
We are sorry to tell you that skipping this stage of the process is almost always a mistake. Unless someone—you, a copyeditor, or a skilled beta reader—has systematically combed your manuscript in search of the copyediting items listed in the diagram above, it is likely that it's still full of errors. And it will be a proofreader's nightmare, because, remember, the proofreading will be taking place in its final environment, where corrections are time-consuming and costly.

Even if your book has already been laid out for print by a designer, proofreaders would like to receive the Word file as well. Indeed, Word allows for so many accurate, time-saving tools that we once intercepted a manuscript we were to proofread, asking the author to please let us have the Word file for a few days before he sent it to his designer.
What were we doing with that Word file? Troubleshooting the proofreading process using Word's powerful tools. Note that this book had already been expertly copyedited. But in our experience, there's always room to tweak a little more in Word. This is one more reason proofreading should almost always be delayed.
If you've sent a chapter to an editor for a sample markup, pay close attention to her corrections and comments. Has she flagged mostly typos, punctuation errors and awkward end-of-line hyphenation? Or has she marked incorrect grammar, usage, and unclear writing? Compare the comments to the items in the diagram above to get an idea of what your manuscript needs. If the editor has queried your word choice or rearranged a sentence, you are likely still at the copyediting stage.
What This Means for You
Especially if this is your first book, by the time you've been through writing, revising and rewriting, you may feel confident that your book is ready for proofreading.
The truth? It probably isn't. Writing and preparing a book for publication is a long and laborious endeavour—longer than many want to admit. There's a risk, always, of rushing the process, thinking the race is over when really, the finish line is only just in your sight line.
A perpetual hazard for writers, when it comes to editing, is that so often they don't know what they don't know. Understanding the difference between these two final stages of editing will save you money and grief in the long run.

Photo: bigstockphoto.com